Truck Trailer Market Trends: Potential Clouds on the Horizon?
Is the trailer market facing potential challenges ahead? The recent U.S. Trailers report from ACT Research reveals some intriguing truck trailer market trends. June's weak sales might be seasonal, or they may signal a significant market shift.
Trailer Production vs. Orders: Insights from ACT's U.S. Truck Trailers Report
Jennifer McNealy, Director of CV Market Research and Publications at ACT, observes that production surpassed orders in June, as anticipated. The result was a decrease in backlogs by 12% sequentially and 10% year-over-year. Key segments like dry van, reefer, and flatbed experienced drops in backlogs from May, with net orders slightly exceeding build rates.
Truck Trailer Backlogs: Understanding the Shift
"Despite the substantial sequential drop in trailer backlogs, the seasonally adjusted backlog-to-build ratio decreased only 20 basis points, standing at 7.1 months in June, down from May's 7.3 months and 8.5 months from the previous June. Though lower, this backlog sets the industry on track until the start of 2024," McNealy notes.
Trailer Order Cancellations: Mixed Signals in June
Regarding cancellations, McNealy highlights mixed fleet commitments for June. "Total cancels dropped to 2.8% of backlog, down from May's 4.2% rate. OEMs report that most cancellations stem from the dealer network, but fleet and model-year cancellation-rebooks are appearing as the 2024 orderboards begin to open, and slots are adjusted," she says.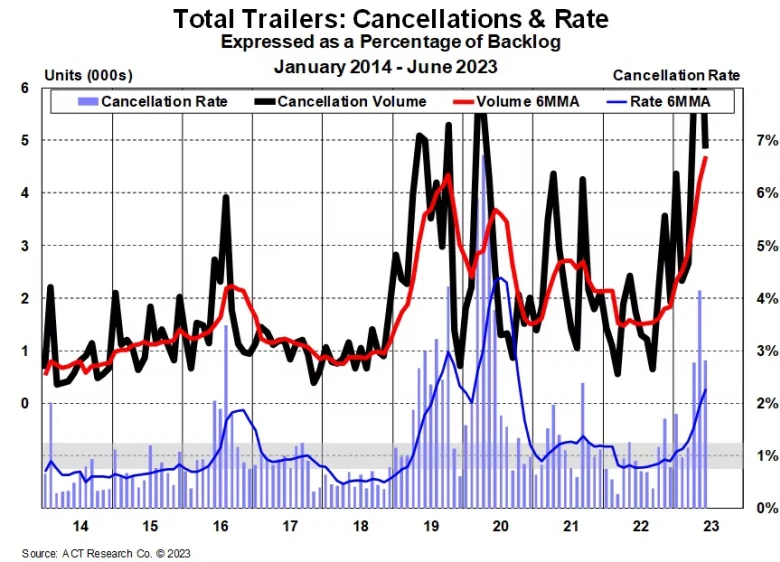 Industry Outlook: What's Next for the Trailer Market?
Conversations with industry stakeholders over the past few weeks reveal a generally optimistic outlook for 2024. However, there is an acknowledgment of increasingly challenging conditions for customers and dealers in the trailer market.
Conclusion: Analyzing the State of the Truck Trailer Market
The latest insights from ACT Research's U.S. Trailers report present a nuanced picture of the trailer market, balancing positive expectations with some possible concerns. With shifts in dry van, reefer, and flatbed backlogs and the unfolding of 2024 order boards, industry professionals must keep a close eye on these evolving trends to navigate the future successfully.
Ever wonder what's the expected lifespan of a semi-truck trailer? Here are some thoughts.
The average lifespan of a semi-truck trailer can vary widely depending on factors like its type, usage, maintenance, build quality, and the type of cargo it hauls. Generally speaking, a well-maintained semi-truck trailer might last anywhere from 10 to 20 years.
Dry van trailers, which are commonly used for general freight, might fall into this range. Specialized trailers like reefers may have different lifespans due to the additional wear and tear associated with temperature control mechanisms.
Regular maintenance and careful handling can prolong the life of a trailer, whereas heavy use, poor maintenance, and hauling corrosive or particularly heavy materials can significantly reduce it. Always consult with manufacturers and follow maintenance guidelines to get the best lifespan out of a particular trailer model.
More on truck and trailer rental and trucking trends
The Top 10 Best New Semi-Trucks in USA for 2023