Description
2019 Freightliner Semi Truck for sale. Available financing. Warranty eligible.
---
Location
Bensenville, IL 60106
---
Specifications
Make & Model
2019 Freightliner, Cascadia 126
Engine Manufacturer
Detroit Diesel
GVWR Class
Class 8: 33,001 lb And Over
Axle Type
Tandem Axle Tractor
2019 Freightliner Cascadia 126
Truck , Sleeper
---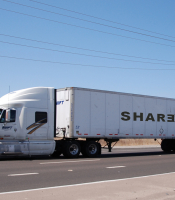 by Valtrans Express Corporation LLC
---
---
FINANCING AVAILABLE!
FINANCING AVAILABLE. PLEASE ASK US FOR DETAILS.
Jobs for this listing
Are you experienced CDL A driver? Drive brand new 2022 semi truck with us.
Posted: 06/24/2021
Benefits: Lease purchase
Freight: Dry Van, Reefer
Driver: Company Driver
up to 2K per week